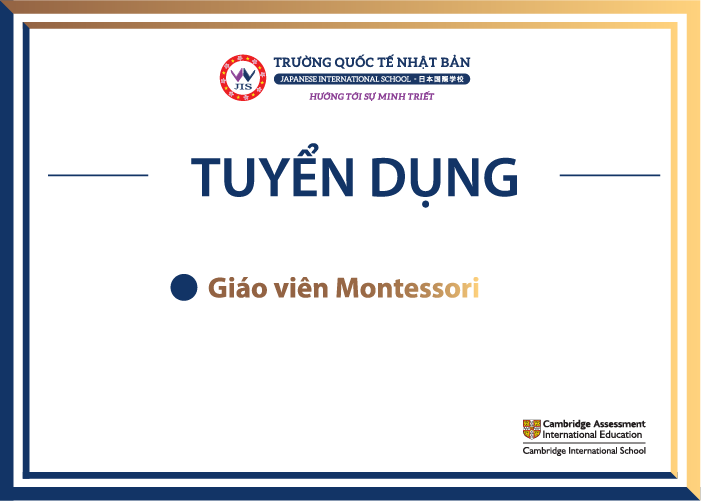 REQUIREMENTS FOR MONTESSORI TEACHERS:
– Number of recruits: 1.
– Female, good communication ability, clear communication, standard pronunciation, enthusiastic, dynamic, really loves children, has patience, loves the pedagogical environment, wants to stick with the school for a long time.
– Qualification: Graduated from University majoring in early childhood education, has an international Montessori teacher training certificate.
– Experience: At least 2 years of experience in the position of Montessori classroom teacher aged 3 – 6.
– Language requirements: Basic English communication or higher.
– Candidates are proficient in using office computer software as well as software and applications in teaching at kindergartens.
– Having talent and appearance is an advantage.
JOB DESCRIPTION:
– Manage, plan and organize educational and nurturing activities for preschool children according to Montessori method;
– Carry out professional related tasks under the direction of the department in charge;
– Participate in professional training activities organized by the school;
– Coordinate with teachers in the block and departments in organizing the activities and events of the Kindergarten block and the school.
BENEFITS BENEFITED:
– Enjoy full benefits in accordance with the provisions of the Labor Code (Bonus on holidays, New Year's Day, …).
– Participating fully in social insurance, health insurance and unemployment insurance regimes according to the Law on Social Insurance…
– Free lunch at the school (according to the School's regulations)
– Other benefits as agreed.
Interested candidates please contact:
– Email: hr@jis.edu.vn (Mr. Van Anh), the subject of the email should be "APPLY_TO TEACHER MONTESSORI_NAME".
JAPAN INTERNATIONAL SCHOOL.