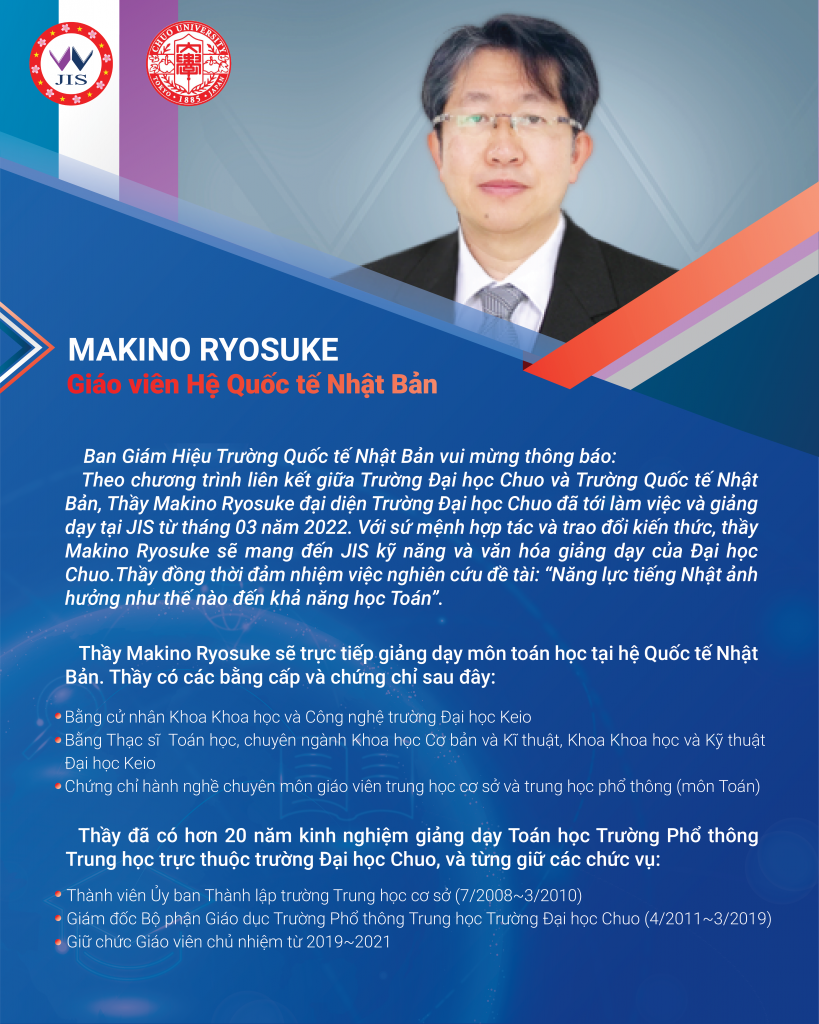 The Board of Directors of Japan International School is pleased to announce:
Under the joint program between Chuo University and the Japan International School, Mr. Makino Ryosuke representing Chuo University has worked and taught at JIS since March 2022. With the mission of cooperation and knowledge exchange, Mr. Makino Ryosuke will bring to JIS the skills and teaching culture of Chuo University. At the same time, he is in charge of researching the topic: "How does Japanese language ability affect JIS? to the ability to learn Math".
Mr. Makino Ryosuke will directly teach mathematics at the Japan International System. He holds the following degrees and certificates:
Bachelor of Science and Technology from Keio University.
Master's Degree in Mathematics, Majoring in Basic Science and Engineering, Keio University Faculty of Science and Engineering.
Certificate of professional practice for middle and high school teachers (Mathematics).
He has more than 20 years of experience in teaching Mathematics at the High School affiliated to Chuo University – Japan, having held the following positions:
Member of the Committee for the Establishment of a Middle School (July 2008~March 2010).
Director of the Education Department of the High School, Chuo University (April 2011~March 2019).
Holding the position of Head Teacher from 2019~2021.