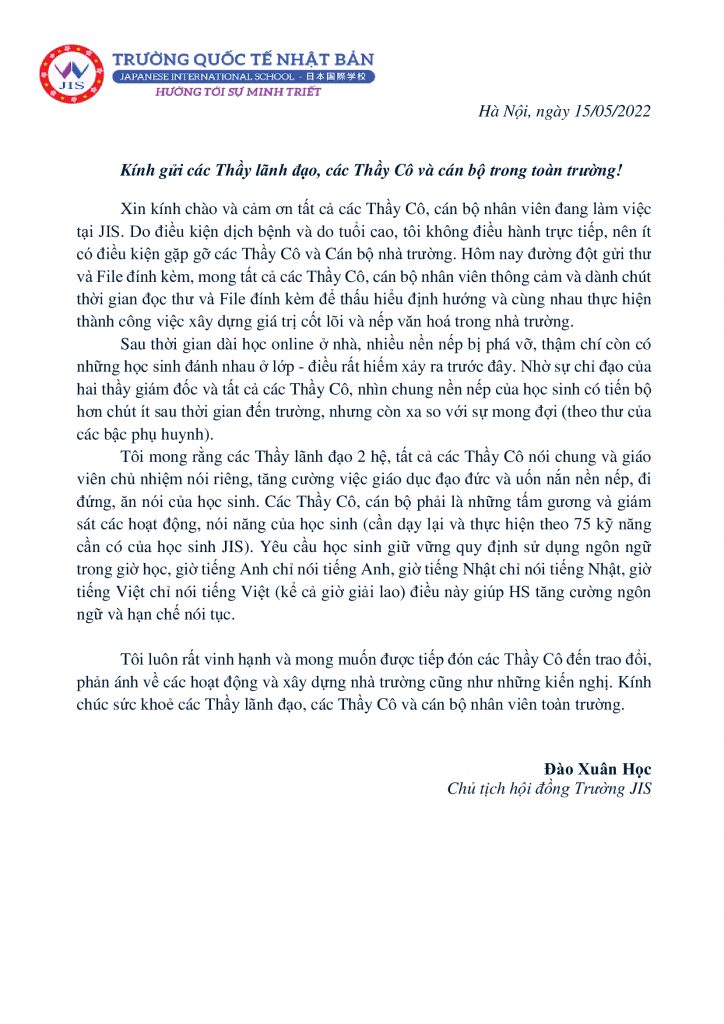 WHAT IS EDUCATION FINALLY FOR?
"Please help students grow up to be real human beings, only in that situation will literacy-counting be valuable." That was the request of a principal at a school in the US – who was lucky to survive in a Nazi concentration camp.
"The purpose of education is to convey the breath of life, to help people respect life, to be good, to open their hearts, to help people awaken the good "good roots" available around them. in ". Poet, musician and nationalist Rabindranath Tagore – who was awarded the Nobel Prize for Literature in 1913 , became the first Asian to win the Nobel Prize. He is also the author of the national anthems of India and Bangladesh.
Human nature is benevolent, so the ancients always said the saying "Humanity is simple, nature is good". However, in the process of growing up, people have to face the temptations of fame-profit-love, the pure, honest, pure, and pure part of their nature is gradually "abraded". Instead, it is wisdom, life core, calculation and envy… Therefore, the purpose of education is to train people, overcome the evil side, the bad side to transform into the good and good side. The core of education is the education of the soul and the honest nature of man, not simply the transmission of huge amounts of knowledge and knowledge capture.
Only then, will people have enough moral standards to face problems that occur in life, without being caught up in the flow of emotions or external circumstances.
Only then can people use a sincere heart to listen to others' feelings, use a kind heart to forgive others' mistakes, and use a tolerant attitude to accept shortcomings. other people.
A Japanese educator once said that we have to train students to "face a bunch of wild chrysanthemums with a surge of excitement" . When a person is filled with love for plants and flowers, how can he not respect human life?
The old saying: "There is nothing sadder than a cold heart" . A person who is indifferent to the outside world is selfish, does not care about others, does not know how to sacrifice for others. If an entire generation, or an entire nation, becomes cold and indifferent, what will the future look like for that nation?
I have always thought that, in education, there is nothing more important than character education. A person with good character, which means having good morals, a standard of manners and understanding, in which understanding about people and how to treat others is the most important. No matter where they work, they will be successful people. A person with good character and good knowledge will surely be at the peak of success.
Teachers have a lot of knowledge to teach, but all subjects to provide that knowledge and all activities in the school have the same mission of educating students' character. In order to do that, the teachers and staff of the school have been and always are examples for students in terms of ethics, order and manners, fostering good human qualities and values for students. born; At the same time, students from Kindergarten have always been trained in manners, ethics, rules and manners in all daily activities. And during the years of studying in school, those behaviors will become habits, from habits will become natural actions, from natural actions will turn into qualities of each person.
"Towards wisdom" – That is the aspiration and goal of the Japanese International School, perhaps all parents and teachers know. In recent times, objective circumstances have prevented teachers from directly interacting with students often, students can only see the school and teachers through online screens. Of course, this is a situation, a challenge for the school community, parents and students to overcome together, but it is inevitable that students deviate a bit from the good habits and routines that they have. The school and parents have built it for your children. This is understandable because habits are things that need to be practiced and exposed regularly, especially in children and teenagers. But this is also the age when they quickly make the most progress if they are accompanied by the relationships around them, from school to family. I believe that with a team of teachers and staff who deeply understand the core values and culture of the school, along with the support of parents, the students will quickly return to their normal habits. good habits and habits, gradually forming qualities that cannot be changed throughout their lives.
I look forward to receiving the dedication and efforts of the teachers and the entire school staff in enhancing education and correcting the personality of JIS students. We look forward to receiving the cooperation and support of parents. The school always respects and is honored to receive comments, exchanges and reflections to contribute to building a more perfect environment for our children.
Dao Xuan Hoc
JIS . School Board President