ENJOYED LETTER OF TEACHER PHUONG HOA – EX-Teacher of JAPAN INTERNATIONAL SCHOOL (JIS)
Each of us will always have a place to remember, a place where we grow up, be proud to talk about wherever we appear. So is the story of teacher Phuong Hoa – a former teacher of JIS Japan International School. Although she has not been teaching at JIC for 2 years now, she is still very grateful for her time working here, the things she has learned have become a valuable baggage that she carries with her in her career.
This is also what JIS wants to spread, so that we understand that, deep in the heart of every teacher, there is always a burning love and desire to devote to the cause of "growing people". Want to bring the best and most valuable things to give wings to the future sprouts of the country.
Let's listen to the enthusiastic letter of teacher Phuong Hoa to the President of JIS!
" Dear Master!
Teacher! How are you?
I don't know if you still remember me? But every word, every action of you and all my memories at JIS are still intact. JIS has always been my great pride whenever I talk about it.
So it's been 2 years since I left JIS after the first outbreak. For the past two years, I've always been watching JIS and had the opportunity to observe the outside environment to answer the question " Why does the JIS Kindergarten School have such good training quality but not many people know about it?"
Below is what I observed and compared myself between JIS and other preschools.
JIS has taught the children to be independent very well. All learning activities of the children take place very naturally (from learning numbers, days, days, months through good morning hours to practicing fine motor skills). God, creative thinking in shaping lessons). They don't feel like they have to go to school to learn something – this is something I really enjoy.
JIS has very own extracurricular activities such as: Sports Festival ; Make cakes or celebrate birthdays .
JIS has handwritten daily diaries, monthly letters that touch the hearts of parents .
JIS is very meticulous in preparing a child for school: from water bottle, dirty bag, toothpaste, name tag… and is always meticulous and careful in everything .
JIS Kindergarten gave the children the foundation of the wonderful Ehon story every day.
And above all, JIS respects children, all activities are for children.
And there are many more but I have not been able to communicate those things to parents, teacher.
I myself have very successfully applied what I have learned from JIS to the children at my new school and parents have seen very clear changes in their children. I have successfully combined It's morning time at the Japanese school or the creation time, Japanese festivals and the Ehon story project, sir .
Let's take a look at my babies!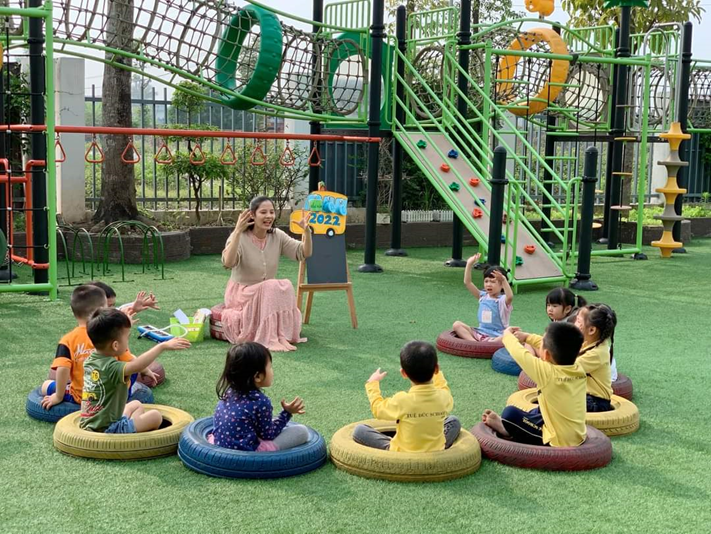 One o'clock good morning I do for the children. You guys like it very much. I learned to play the Melodica from JIS. This photo has been named Happiness in the sun.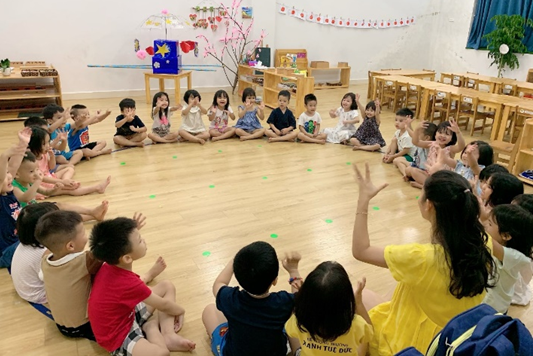 Finger game is a project I did during the October epidemic to share with children in 3 regions. These are the things I accumulated while working at JIS and Ms. Koga.
In addition, I have built agroup for parents who love Ehon and want to build a habit of reading Ehon stories for their children every day. This is also what JIS inspired me.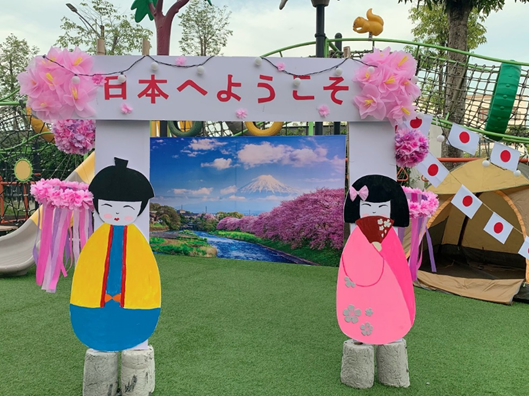 This is the camp gate I made for my children in the last summer camp "Asia in your eyes". Parents were very happy with what their children learned.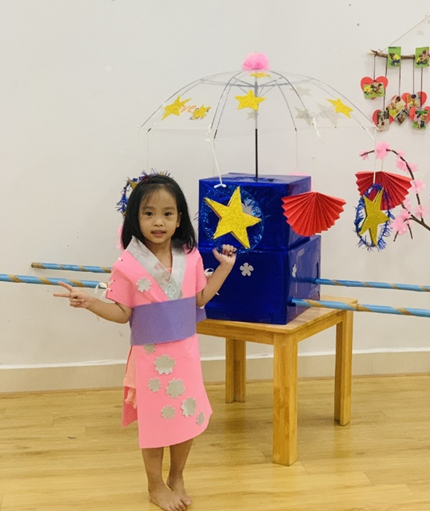 This is a set of KIDSImono I made from felt for students in my class to learn about Japanese traditional costumes. The children wore costumes together and participated in the procession of the teacher's palanquin.
And there's so much more. JIS has taught me a lot of things so that I can bring those "essences" to many other children. It's just a pity that I haven't had many opportunities to share what I can with J .'s babiesI S.
I once dreamed of dedicating a lot so that my baby could study at JIS. I am really grateful to you for creating JIS – a great environment for my children. Hope there will be many children studying here.
Once again, thank you for reading my whole story.
Hope to visit you one day!
You are very healthy sir!
Thank you so much teacher! "